Eden Towers completed an Environmental, Social and Governance (ESG) review and first ESG report working with the team from ESG Impact, and key supplier and partner Intelligent Growth Solutions (IGS). Throughout the process the key focus was to ensure Eden Towers has an effective governance structure, with a range of policies and committees to have oversite of identified ESG risks. Eden Towers also identified a range of targets and objectives associated with the United Nations Sustainable Development Goals and their internal ESG objectives.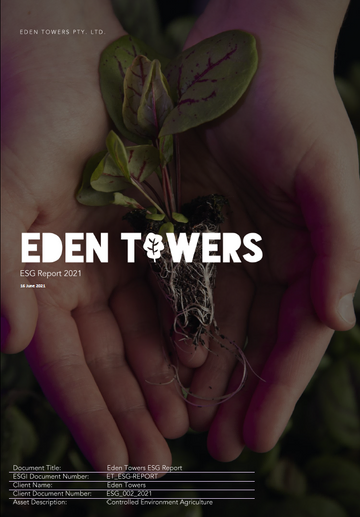 ESG Risk Management
Eden Towers understands that not all ESG risks can be deterred but is deeply committed towards maintaining the effective controls, measures and processes to identify and mitigate risks prioritised by their potential consequences.
Key ESG identified risks:
Environmental and Social Impacts of Ingredients and Supply Chain

Water Withdrawal

Fair labour and Workforce Health and Safety

Food Safety and Health Concerns

Land use and Ecological Impacts

Greenhouse Gas Emissions

Energy and Fleet Fuel Management

Climate Change Impact on Crop Yields

Management of the Legal and Regulatory Environment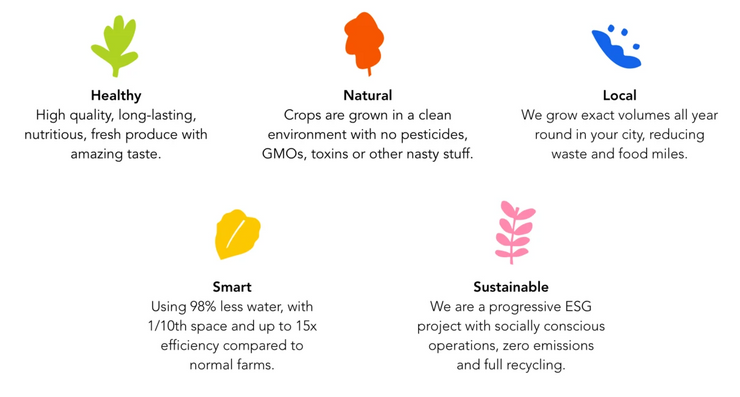 Corporate Governance
The unique nature of Eden Towers as an agriculture company, with intelligent farming technology the governance and management of the organisation needs to have a diverse background. This ensures best practice policies and procedures are adhered to. Eden Towers' governance policies are a crucial aspect towards keeping all suppliers' and corporate customers values, practices and systems aligned with one another.
Key governance policies:
Risk Management Committee – Charter

Audit Committee – Charter

Environmental, Social and Governance (ESG) Committee – Charter

Modern Slavery & Human Rights Statement

Employee Code of Conduct

Risk Management Policy

Diversity and Inclusion Policy

Review of Suppliers (Supplier Code of Conduct)

Environmental Management Statement

Supplier Engagement Policy
Supplier Management
Eden Towers holds itself accountable to various principles and values that guide decision making to ensure that Eden Towers can operate in a responsible and ethical manner. Eden Towers also expects that these same values and principles are shared by consultants, contractors and suppliers, of all goods or services suppliers to Eden Towers.
Eden Towers has developed an onboarding process for all partners and clients to manage a number of risks within suppliers and supply chains. The onboarding process for partners and supplier code of conduct identifies the following guidance:
Business Integrity and Ethics

Social and Labour Conditions

Health and Safety

Environment

Supplier support and commitment
Technology
Tech enabled – using IOT, AI to automate from seeding to harvesting.
Research & Development – exploring new produce beyond the norm.
Sustainable – renewable energy, full recycling and sustainable practices used.
Full Climate – technology powering a complete climate control, allowing for any climate to be replicated.
ESG Impact can help your business identify ESG risks, create a strategy to manage ESG risks and find efficiencies. We work across all sectors, working with senior leadership, c-level and boards to develop a clear pathway to ESG reporting. Reach out to ESG Impact if you are interested in finding out more.
Contact us to discuss how your organisation can reduce ESG risks, create an effective ESG strategy, reduce their carbon footprint and better manage ESG risk in your supply chain.