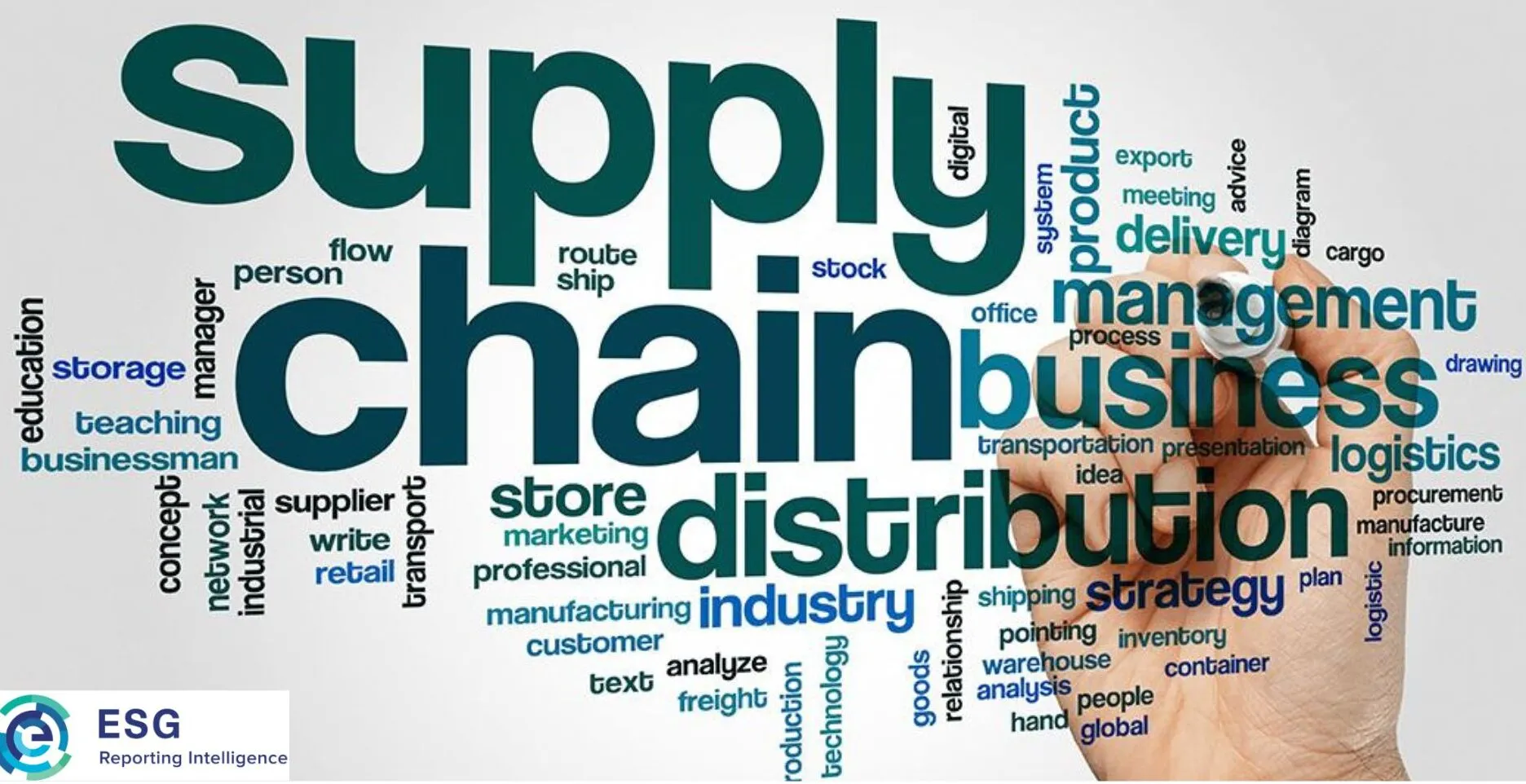 "Two-thirds of the average company's environment, social, and governance footprint lies with suppliers. Procurement leaders who take bold action can make a decisive difference in sustainability." (https://www.mckinsey.com/business-functions/operations/ourinsights/buying-into-a-more-sustainable-value-chain)
In the majority of products and services, 80-90% of GHG emissions are classified as "Scope 3" (https://www.mckinsey.com/business-functions/operations/our-insights/buying-into-a-moresustainable-value-chain).
According to the Clean Energy Regulatory; "Scope 3 emissions are indirect greenhouse gas emissions other than scope 2 emissions that are generated in the wider economy. They occur as a consequence of the activities of a facility, but from sources not owned or controlled by that facility's business.". Examples of scope 3 emissions could be the embedded emissions in an employee taking a flight to travel to a conference or simply commuting to the office.
Furthermore, the majority of these emissions are usually from the upstream supply chain which can be especially difficult to determine the environmental and labor practices if they are a tire-n supplier.
One of the most pressing consumer behavior trends for brands is the growth factor that ESG and overall sustainability are becoming into the purchasing decision, where consumers are becoming aware of aligning spending habits with personal values. A survey conducted by OpenText found that 88% of global consumers would prefer to purchase from a company that sources its products ethically over one that do not (https://www.opentext.com/about/pressreleases?id=5188A6174DE447FCAC930758694BBCB9).
Selecting the right IT tools will be critical towards achieving your ESG strategy, using cloud-based solutions that provide real-time data can allow for immediate troubleshooting and a birds-eye view of the company from an ESG perspective. Additionally, the use of a cloudbased Enterprise Resource Planning (ERP) can immediately allow a company to leverage the applications within an ERP to constantly track progress against KPIs and goals. Using real-time data, businesses up and down the supply chain can make fast and informed decisions to make specific changes in their own supply chain. These changes could result in lightening an organisation's carbon footprint and help identify operational monitoring gaps and other ESG-related outcomes that the end-user, society, and the environment would appreciate.
Currently, there are large pools of data being collected and made available to companies and the public about how a supply chain may be performing. However, it is extremely difficult to collate this information and make informed decisions when it's scattered across a range of different documents that companies tend to release on a quarterly or annual basis. This furthers the need for businesses to have real-time data systems in place so that investors can have more consistent and reliable access to crucial information regarding a business's performance from day to day.
Currently, companies are relying on legacy systems that monitor their suppliers with very surface-level information which have annual review processes or use third-party rating systems for suppliers within their supply chains. Additionally, without using real-time data there is a large latency of approximately 6 to 12 months for updates on ESG information. This large latency can be extremely problematic for a buyer because it doesn't provide the opportunity for a supplier to course correct. Real-time ESG information could immediately flag and notify a supplier if they are close to breaching their buyer's ESG requirements, allowing them the chance to make the necessary changes. Especially because 'ESG' is still relatively new, it may take time to communicate and embed specific expectations across a business' supply chain. Therefore, it will be vital that a company can effectively plan out its ESG strategy in both the short and long run.
Common ESG issues in a supply chain can include:
Environmental:
  ● Lack of monitoring for waste management
  ● Energy or water usage that is supplied from unethical sources
Social:
  ● Modern slavery, poor worker solutions, and child labor
  ● Discrimination or pay differences between male and female workers
Governance:
  ● Clear terms and minimum standards not established in the supply chain, lack of diversity in senior management, and absence of KPIs, procedures, or tools to collect data about ESG performance.
Especially because an organization's supply chain can come from all around the world it makes it extremely difficult for any company to truly understand how suppliers are implementing policies and procedures. This further highlights the importance of adopting technology solutions that can collect real-time data to give multiple parties a clear and consistent picture of how a supplier of theirs is performing. This means that no matter the time zone or region around the world, informed decisions and course-correcting can be performed regarding suppliers and other subsidiaries with real-time data.
Furthermore, real-time ESG data can solve many more issues regarding supply chain management, but certainly not all. Data insights can be much better because it is now possible to quickly link specific products to the shipments that they came from, providing valuable scope 3 emissions data. Real-time ESG data also reduces the ability for greenwashing to occur because there is hard data with very little ability to be spun to a specific agenda or narrative that a company may have. This data can also highlight whether these organizations are fulfilling any ESG promises or goals that they have publicly stated. Additionally, interpretations of the real-time ESG can be adjusted to local conditions to ensure that these specific local variations can be taken into consideration.
Examples of real-time ESG data:
The space is still very raw but some of the first real-time ESG data products are beginning to emerge in areas such as manufacturing. These data systems monitor workers and their conditions in factories in real-time. There are many different ways that this has been executed but most commonly through mobile apps that workers use to enable them to report any issues on working conditions and experience. More specifically, workers can use a whistle-blower mechanism to report if they didn't get paid, or were forced to work overtime, or anything outside of their contract. This real-time data is often referred to as a factory's social score.
This factory social score can be algorithmically calculated from a wide range of data inputs, with the factory worker feedback having a large weighting for the overall score. This one number can be adjusted in real-time to reflect any positive or negative changes in the organization's human capital impacts. Importers, as well as factory owners, can further branch out into different areas of ESG data collection as time progresses. The more data that a facility can capture and display transparently, the more importers and investors can feel confident in the supplier or investment.
Moving further into the future, IoT devices, and blockchain technology will be adopted increasingly to capture real-time ESG data within the supply chain. Through the use of various sensors and smart meters, countless statistics can be recorded regarding operational efficiency to the room temperature to ensure factory worker comfort. Modern companies will be able to collect and collate their IoT data to be placed straight into ESG reports that can reflect more recent information than what was previously possible. When there may be less trust between suppliers, the use of blockchain technology can be a vital solution for tracking and validating real-time ESG data within supply chains. At the core of blockchain is transparency, automation, and reliability which can be utilized to continually drive adjustments and improvements in the way that ESG data is collected, accessed, and used.
Developing a Sustainable Procurement Plan
1. Determine the baseline and how far the organization wants to go with its ESG obligations, this can be done with comparative analysis. Then the company needs to understand and quantify the organization's current ESG footprint by conducting multiple assessments across the business. This will help identify the most significant risk areas and improvement opportunities. Then determine what matters most in the context of the company's overall ESG agenda and set the goals and targets for sustainable procurement over multiple time horizons.
2. Establish the core ESG values and drive value-creation initiatives. Define the ESG metrics and policies that will be integrated into the organization's standard supplier selection, procurement, and supply management processes. In parallel, select a number of top-priority ESG themes and address them via in-depth cross-functional innovation and improvement initiatives, such as collaborating with value-chain partners to decarbonize emissions-intensive areas of the supply chain.
3. Shift the organization. Scale up and roll out successful initiatives. Integrate sustainable purchasing practices into the organization. Continuously train the procurement community on sustainable procurement principles and their application.
Track performance against targets.
write about how it's an on-demand academy of a wide range of workshops, training, reporting, new starter induction, and trusted ESG news.
Contact us to discuss how your organisation can reduce ESG risks, create an effective ESG strategy, reduce their carbon footprint and better manage ESG risk in your supply chain.